Saying that the Apple App Store offers a huge variety of games would be a total understatement, on a daily basis there are literally thousands of new gaming titles hitting the virtual shelves. This type of unprecedented situation results in numerous fantastic gaming titles being lost and buried under mountains of uninspired clones and soulless MMOs. Keeping the aforesaid in mind we sometimes require a spotlight to emphasise the developers and games that still keeps fighting the good fight, the games discussed below should assist in their cause.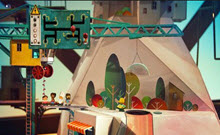 Lumino City is one of those games that are good enough to immediately pick up and start playing while setting aside any other games you might be playing at the moment. This game is one of the most creative and original mobile videogames to hit the Apple Store's shelves this year. It has, for the greater good of mobile iOS gamers everywhere, received a remodelling from its development team at State of Play. The BAFTA acclaimed PC launched original puzzler is now made available on iOS mobile devices. Out of all the various aspects that makes this game great the single one that stands out the most is the fact that each individual level is a completely original piece of art handcrafted out of paper, miniature lights, cardboard, and motors all added together to provide an already awe-inspiring game with an extra layer of marvel. It is available from the Apple Store at £3.99.
Beneath the Lighthouse, presents an already puzzle filled world with yet another puzzler; however, this game is for the one above is an absolute must to experience. The game presents players with beautiful, skilfully constructed graphics and artwork done justice by a smooth playing gaming engine and generates incredible passion during gameplay. The developers, Nitrome, have historically proven that their team finds it impossible to create bad games. Players will find great pride and frustration in guiding the main gaming character, which happens to be a ball wearing a hat, as it progresses through every level by twisting and manipulating his surroundings. The innovative gaming controls will engage, puzzle, and punish both old and new fans, so best to get practising those stress relieving breathing exercises before starting gameplay.